We try to carpool whenever possible, and that's usually at least 3 days during the week of getting all of us ready and out the door by 7:30.
okay, really more like 8:00.
I drop Caleb off at his office, then go the three miles to the boys' school - exactly the length of time for a morning shake-your-booty break. The boys like it and the music usually gets them in a good mood before the "ditch and dash" their mom has to do to get herself to work at a decent hour.
I had the iPod on random and a childhood favorite of mine popped up. The disco-fabulousness of The Queen - Donna Summer herself - burst forth from the speakers and, in the rearview mirror, Finn perked up.
Sittin' here, eatin' my heart out waitin'
waitin' for some lover to call
dialed about a thousand numbers lately
almost rang the phone off the wall
Eli's head was boppin and his feet were kicking. Finn started giggling, "I llloooovveee this song Mamma!"
Lookin' for some hot stuff baby this evenin'
I need some hot stuff baby tonight
I want some hot stuff baby this evenin'
gotta have some hot stuff
gotta have some lovin' tonight
We listened to it again on the way home. And again the next day as we headed to a playdate. And on the way back. And again today going to the grocery store. At dinner tonight Finn and I performed our duet, with me singing the chorus and Finn screaming "HOT STUFF!!" at the appropriate time.
Who DOESN'T love to teach their three year old songs about prostitution??
*******************************************
Today I did a marvelous thing. Something I haven't done in... oh, about 10 years.
Kohl's is having a kickass sale and lots of their lingerie is 50% off this weekend. I made my way over, and for the first time in a LONG time, I bought underwear that didn't come from a plus-sized store. I am
very
excited. There are so many more pretty things in the smaller sizes, and I was surprised to see it costs less too. (What is up with that?? I don't know a single woman who WANTS to wear ugly, frumpy, uncomfortable underwear. I think if anything, a more curvy girl would feel a little more self-conscious, and could use the validation of the same frilly pretty things the size 2's have.)
Anyway, I was so excited I called a Person Who Shall Remain Nameless to share the glorious news of the sale, because I knew this person hardly every bought new underwear for herself.
I had
no
idea the brevity of her "unmentionable" situation.
The Person Who Shall Remain Nameless (or PWSRM) had a beloved terrier dog that is no longer with us. One of this dog's favorite pastimes, was to snack on the... er...
delicate
areas of her underwear, giving a whole new meaning to "crotchless panties".
This dog has been in Doggy Heaven for at least five years, probably closer to ten. And PWSRM still has those crotchless panties, now literally vintage.
...???!!!!!
Get thee to Kohl's, Woman!
*******************************************
How on earth can a child wake up from his nap undetected, rummage around in a closet down the hall, and come up with a blue
Sharpie marker
without his parents ever knowing he woke up?
Thank goodness for this guy and his amazing
magic erasers
.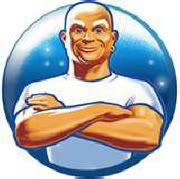 Now if they could only work on my cellulite and vericose veins...