So... Blogger is telling me that this is my 100th post to the Hotwheel Hacienda. I really wish I had been paying attention, so I could have planned on doing something wild and throw a huge party or something. Instead I'm eating a chocolate Jello pudding cup and washing it down with a glass of shiraz in way of celebration.
If I were feeling
really
industrious I could post "100 Things About Me", but that's kind of narcissistic and would take a really long time. And I'm lazy.
Observe: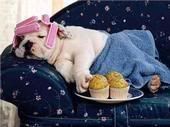 I could reflect on how this blog has made me a better person (probably not), or a better parent (probably so), or somehow changed my life in a giant way. I love that I'm creating a real record for my boys about who they are and how they came to be that way. I hope it could be a resource for them if they ever think to themselves,
so THIS is how Mom totally screwed us up!
Now they, and their shrink(s), can go straight to the source! I've saved them YEARS of expensive therapy.
But one of the best things about blogging is connecting with my
Doogs
and making friends all over the country. Where else could I get vindication of my killer parenting, writing, and shoe therapy skillz? I've really loved reading all your blogs and making you a little part of each day. I think of some of your posts that I come across and laugh (or sometimes cry) out loud.
You've given me a place to tell the stories of this guy:
And this guy:
So thank you for coming by the Hotwheel Hacienda and checking in on us from time to time. And leaving comments! And sending chocolate! And shoes!
I was serious about that comment thing... leave me one today & help celebrate my 100th in style!