I made this tonight for the Hotwheel Hacienda beasties. They ate it!!! And it was healthy!!! (for the most part.) And it was MUCH more low-fat and delish than this: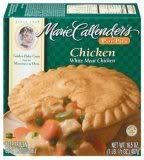 Since I'm all about sharing the love I thought I would post the recipe here to you. By the way, it's 30 degrees outside here but it feels like 10 with the wind chill. This is the kind of food I crave on days such as these...
BOOKMAMMA'S KICK-ASS CHICKEN POT PIE
(credit to
Recipezaar
, with my own adjustments)
4 servings - 55 min 30 min prep
Filling
1 cup onions, chopped
1 clove garlic, minced
1/2 cup celery, chopped fine
1 cup reduced-fat chicken broth
1 1/2 cups diced potatoes, peeled (I used some red potatoes with skins on too)
1 1/2 cups chopped carrots
1 cup fresh green beans, cut in 1 inch pieces
1 (10 ounce) can reduced-fat cream of chicken soup (or cream of mushroom)
1 1/2 tablespoons all-purpose flour
2 cups chopped cooked chicken breasts (I also added a garlic-chicken sausage I had leftover and minced it fine)
2 tablespoons fresh parsley, chopped
1/4 teaspoon dried basil
1/4 teaspoon dried thyme
1/4 teaspoon black pepper
optional: sliced mushrooms, fresh peas
Biscuit Crust
1 cup whole wheat flour (I also threw in an optional 1/4 cup wheat germ)
1/2 teaspoon baking soda
1/2 teaspoon ground sage
1/4 teaspoon salt
2 tablespoons butter or margarine
1/3 cup skim milk
Directions
In a large saucepan over medium heat, saute onions, celery and garlic until tender, about 5 minutes (use oil or cooking spray).
Add broth, potatoes, carrots and beans. (if you're adding peas and mushromms wait or they'll be mush)
Bring to a boil.
Reduce heat to medium-low.
Simmer for 10 minutes,
partially covered.
Potatoes should be a bit undercooked.
Remove from heat.
Combine condensed soup and flour in a small bowl.
Add to vegetables, along with chicken, parsley, basil, thyme and pepper.
Stir well.
Pour into a casserole dish (I use a 9 x 9 pyrex baking dish).
Prepare biscuit crust.
Combine flour, baking powder, sage and salt.
Cut in butter or margarine with a pastry blender until it looks like coarse crumbs.
Stir in milk.
Form the dough into a ball, adding a bit more flour if too sticky. (here's where I added wheat germ)
On a floured surface, roll out dough to the size where it will fit the top of your casserole dish.
Place dough on top of chicken mixture.
Prick dough with a fork several times.
Bake at 400 F for 25 minutes, until crust is golden brown.
Let stand for 5 minutes.
Serve.
Bask in the glow of admiration from your beasties.